Inspiration and Tips for a Party at the Fair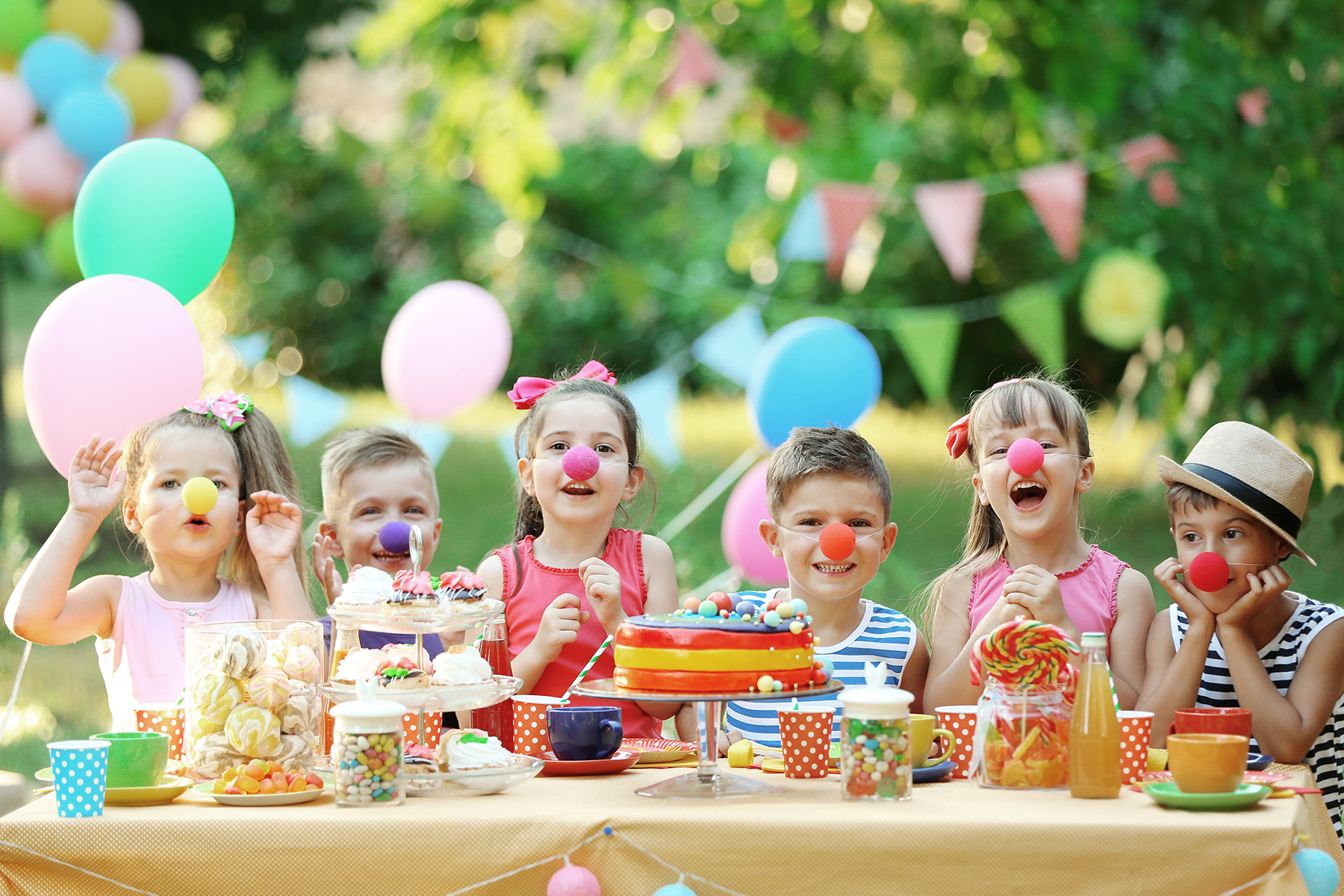 Perhaps your family has birthdays and birthday parties coming up. Does your child enjoy the fair? Then what's more exciting than throwing a fair-themed birthday party? We give you our best tips for a thrilling, fun, and fast-paced birthday party.
Going to the fair or visiting an amusement park gives us a rush of excitement and butterflies. Carousels, rollercoasters, and fun games make our hearts beat a little faster. The smell of popcorn, cotton candy, funnel cakes, and corn dogs is in the air. These days are usually a perfect mix of lovely chaos, good laughs, and happy screams. Fairs and amusement parks can both be a little intimidating and thrilling, but at the same time exciting and amazing. Try to recreate this scary, but astonishing feeling when throwing your child's next birthday party.
The Tivoli Director Welcomes You to a Birthday Party
Children love when their parents join the party, and even participate in play and different games. You become really popular if you dress up like someone working at the fair and it also makes the experience more authentic. Maybe you can be the director, or how about a clown scheduled to perform? Someone needs to put on a uniform and keep track of tickets for the rides and different activities. Maybe you even need a zookeeper?
If you are throwing a fair-themed party and really want to bring out the old-fashioned feel, think of colors like red, white, black, and gold. We bet you can picture a red and gold vintage carousel spinning around, or a white and red striped tent. If you have the role of the director of the fair, you can dress in black suit pants or a skirt, a white blouse or shirt, and a floppy hat. Perhaps you can borrow a coat from a second-hand store and attach some gold details to it. This will make you look like the important fair director that has everything under control.
Decorate the Room or Location Where Your Party is Held
Get in the right party mood by decorating the birthday venue. If the weather allows you to be outside, you can move the party to your yard or a nearby park. Nothing screams the fair like a sunny outdoor day. Whether you end up being indoors or outdoors, decorate the location with colorful pennants and balloons.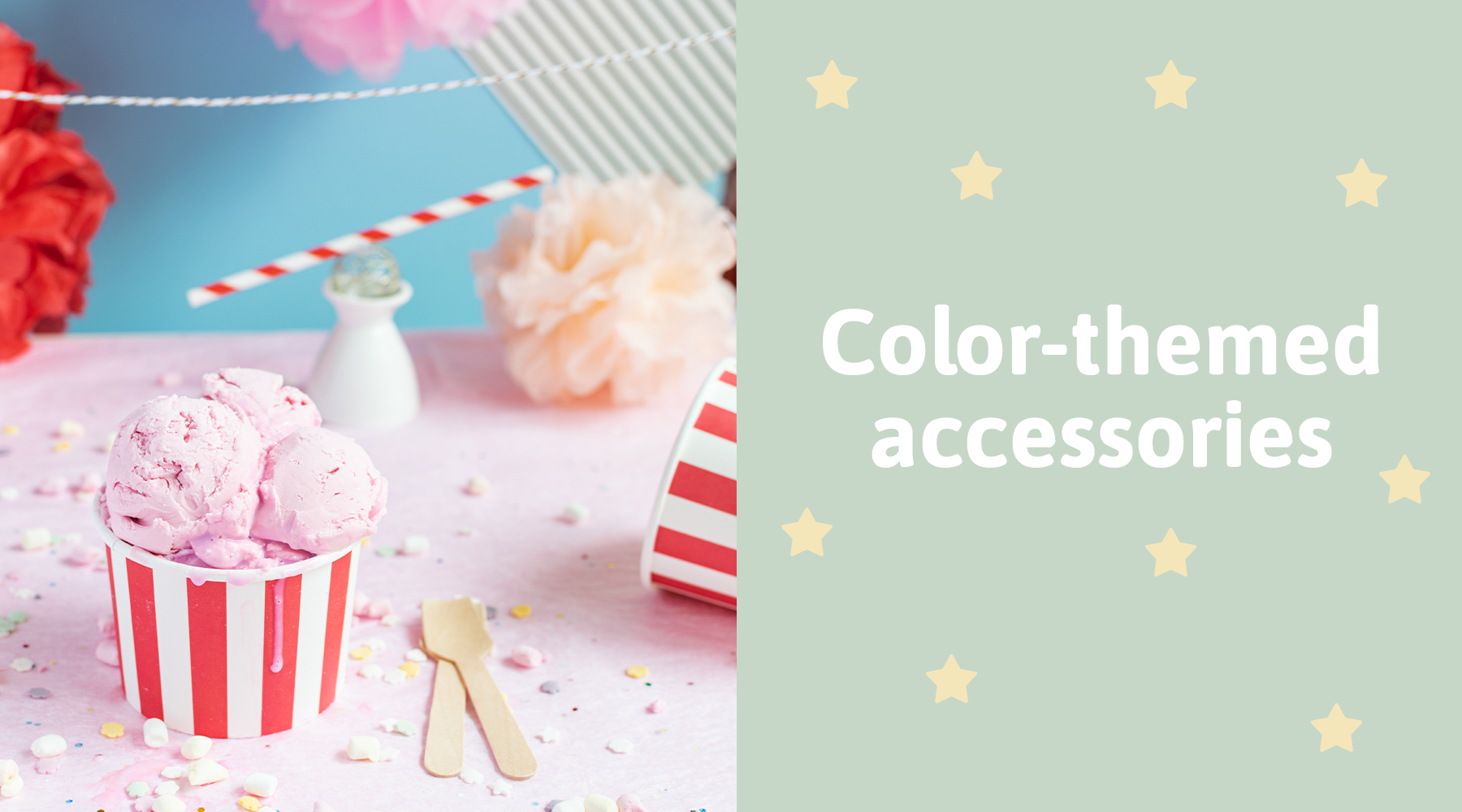 We recommend sticking to your color scheme. If white and red are your selected colors, then you should also find balloons and pennants in these colors. Sprinkle confetti on the table and decorate it with fringes and pompons. Place a party horn or a birthday hat by every plate, and if you have time, you can make a sign. Grab a gold marker and a piece of cardboard or wood and write "Welcome to The Fair". Place the sign somewhere in the room or tie it to a tree if the party is held outdoors. If you have a string of LED lights at home this can really make the sign pop. Do you have the time and patience to blow up balloons and assemble a balloon arch that will adorn the entrance to the party? Balloons are a must-have at a birthday party, and an arch is really the finishing touch. If you're outside without a real entrance, you can improvise and use some trees.
When the guests arrive you can hand out tickets (cut out of colorful paper) which are valid as entry tickets to the fair. You can also give out tickets that count as payment for different activities and rides, or that can buy snacks at the food station. Let your color scheme shine through on invitations, decorations, food, and activities. Find inspiration on how you can make fair-themed invitations below. Read tips on how to serve snacks and treats, decorate the cake, and arrange fun games and activities at the birthday party.
Welcome to the fun fair! Feel the butterflies in your stomach and hear the excited screams from the rollercoaster.
Download the entry ticket here: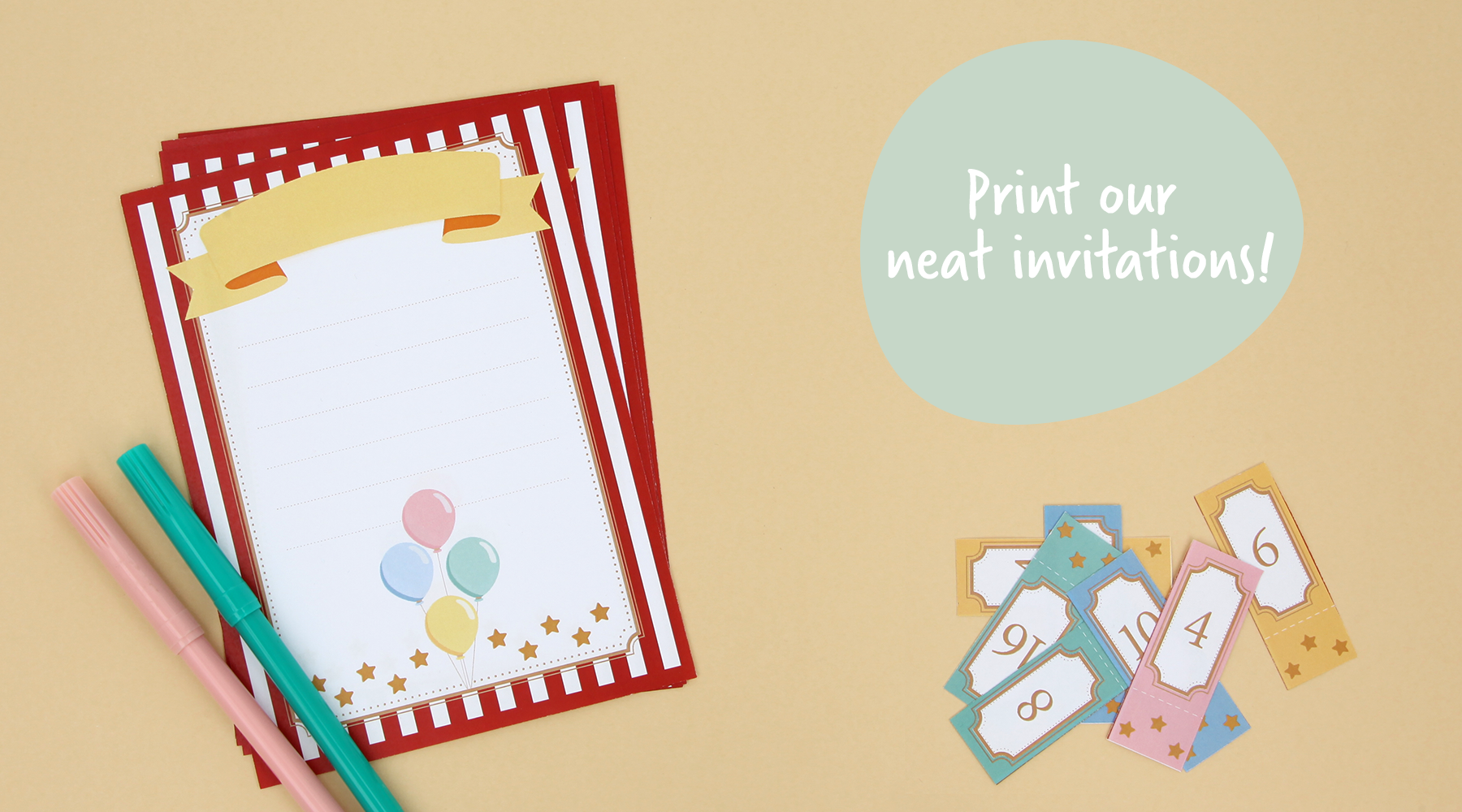 Tips on Games and Activities for the Birthday Party
Are you having the party outside or near a park or playground? Take advantage of your surroundings and make use of what's available, for instance, you can let swings and playground sets be carousels. If you have a swing set in your yard, you can decorate it with balloons so that it becomes a fast-paced and exciting carousel.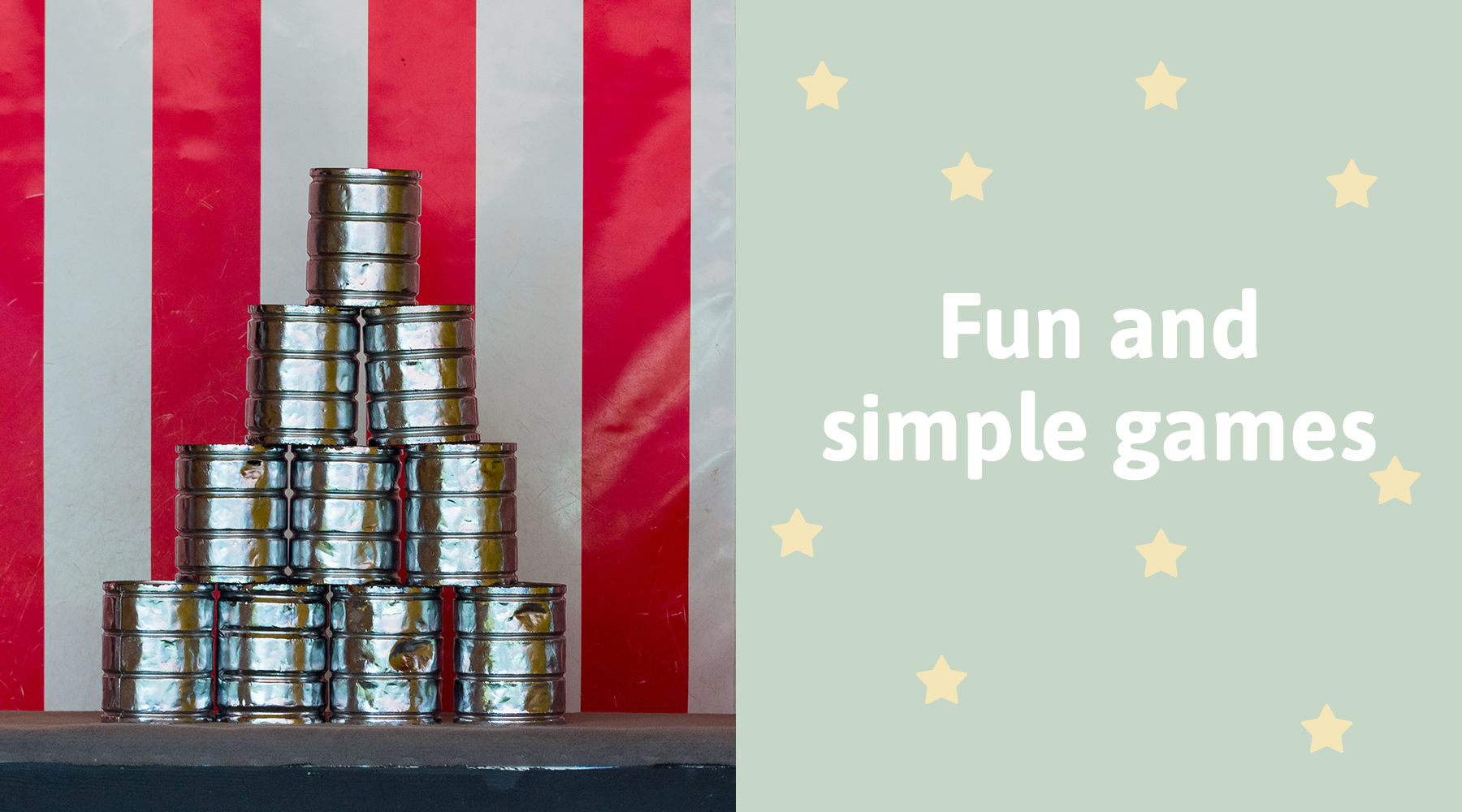 Fishpond
A classic activity that is perfect for the fun fair. You need a piece of fabric, a blanket, or a sheet. A fishing rod, a long stick, some clothespins, and small gifts such as erasers, pencils, marbles, and sweets.
Place a piece of fabric in the doorway or between two trees. Have the children line up in a row and let one kid at a time "fish". One person, preferably an adult or older sibling, will sit behind the piece of fabric and hook a little gift on the rod using clothespins. When the gift is hooked, pull the rod ever so slightly so that the fisherman can tell he or she got a catch.
Pin the Nose on the Clown
This is a twist on the classic game "Pin the Tail on the Donkey" that is especially fitting for a fair-themed birthday party. All you need is a large sheet of paper, a clown nose, crayons, glue, and a scarf or shawl.  These are things most people already have at home so that you don't have to go shopping for supplies.
Draw a clown on the large sheet of paper but leave the nose out. You can either use a store-bought clown nose or draw and cut one from a piece of thicker paper. Glue the back of the nose.Have the children line up in a row. Tie the scarf around the head of the first player so that it completely covers the eyes. The player must then try to pin the nose at the right spot on the clown without peaking. The contestant that pins the nose and the closets win.
Throw Balls Through the Clown's Mouth
This game is also perfect if you're throwing an old-fashioned and fair-themed birthday party for your child. Grab a big piece of cardboard and draw the face of a clown on it. Cut out a large hole for the clown's mouth. Let the kids attempt to throw balls through the open hole. For instance, you can let every child throw three times. If the party is in a competitive mood, they can get points for how many attempts they succeed.
Milk Bottle Knockdown
Pretend you're at the fair. One of the most classic and popular games in fair history might seem easy, but we can promise you it's not. Preferably this game would use old milk bottles, however, this can be difficult to acquire so you can always improvise and make use of disposable cups, tin cans, or the like. You also need a softball or a bean bag. Stack the bottles, cups, or cans on top of each other so that they form a pyramid. Have the children line up and one after one they will attempt to knock down as many targets as possible throwing a bean bag or softball. Who knocks down the most targets?
Face Paint
For this activity, you need face paint and paint brushed. If you, or someone you know, master the art of face paint, this can be a fun activity to offer at your fun fair. Paint the kids as adorable dogs, scary tigers, and colorful butterflies.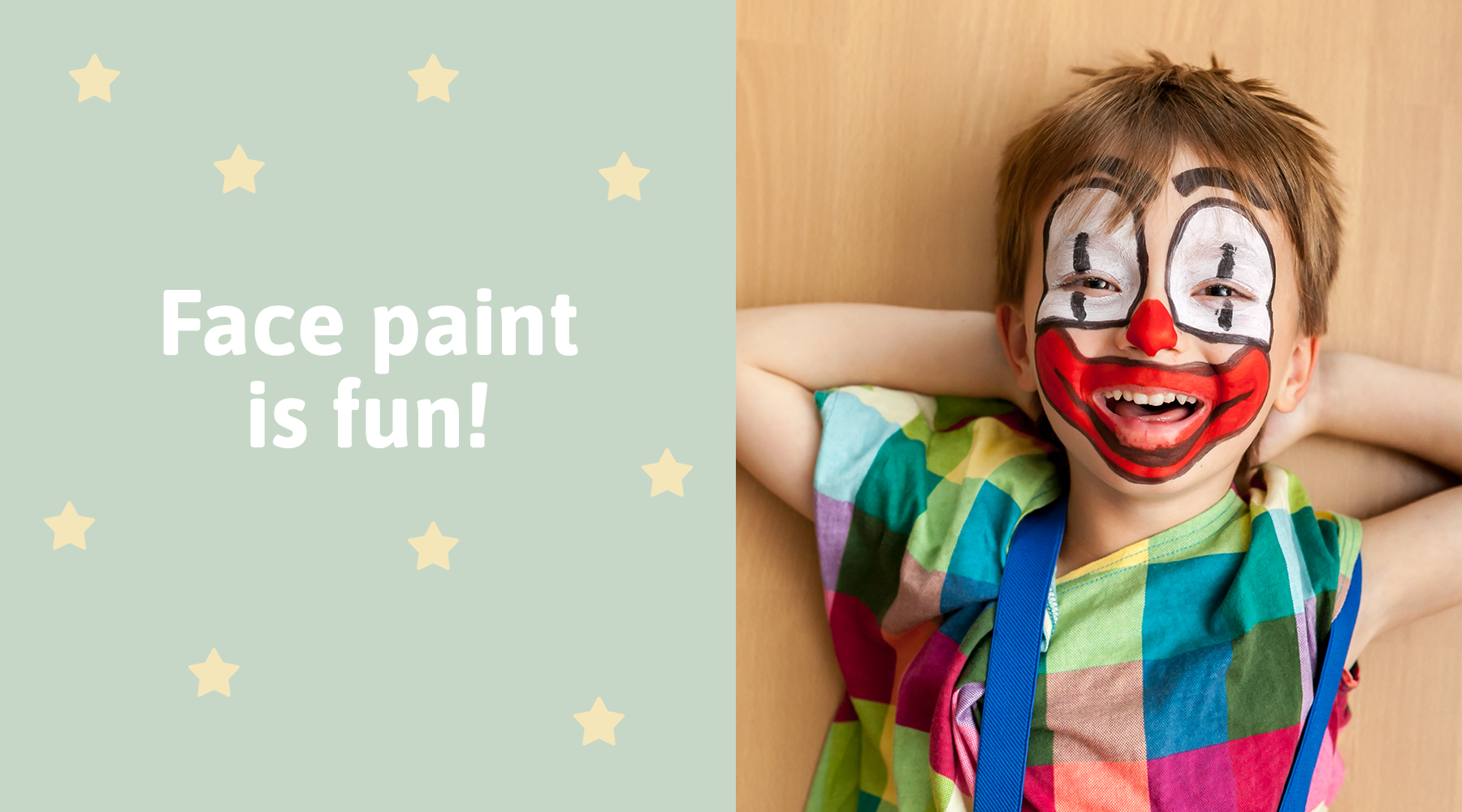 Food and snacks for a fair-themed birthday party
Corn on the cob, corn dogs, and soft pretzels are perfect to serve at a fair-themed party. Serve juice or other beverages in glass bottles with straws. Maybe you can find stripe-patterned straws in red, white, or gold, to really give the feeling of being at a Tivoli or the fair.
When it comes to snacks and candy, you can offer it from a shed where the kids will come and turn in their tickets in exchange for popcorn, donuts, churros, or any other sweets you decide to serve. Popcorn in cellophane bags, mini donuts, or maybe cotton candy would really be the finishing touch to your own fun fair.
Ice cream is a favorite among children and their parents. How about a homemade ice cream bar? Buy different flavors of ice cream from the store and have the children point out and decide what they would like. And don't forget about sprinkles and chocolate sauce! You don't have to offer a huge variety of flavors, just keep in mind that not everyone like the same. We recommend offering vanilla and chocolate ice cream, and perhaps a sorbet or sherbet.
Tips on How to Decorate a Fair-Themed Birthday Cake
No birthday without a birthday cake! We challenge you to let the cake decorations match the fair theme. You need two large lollipops, two straws, a string with pennants, a small kakesnødder, candy of your own choice, popcorn, and a popcorn container.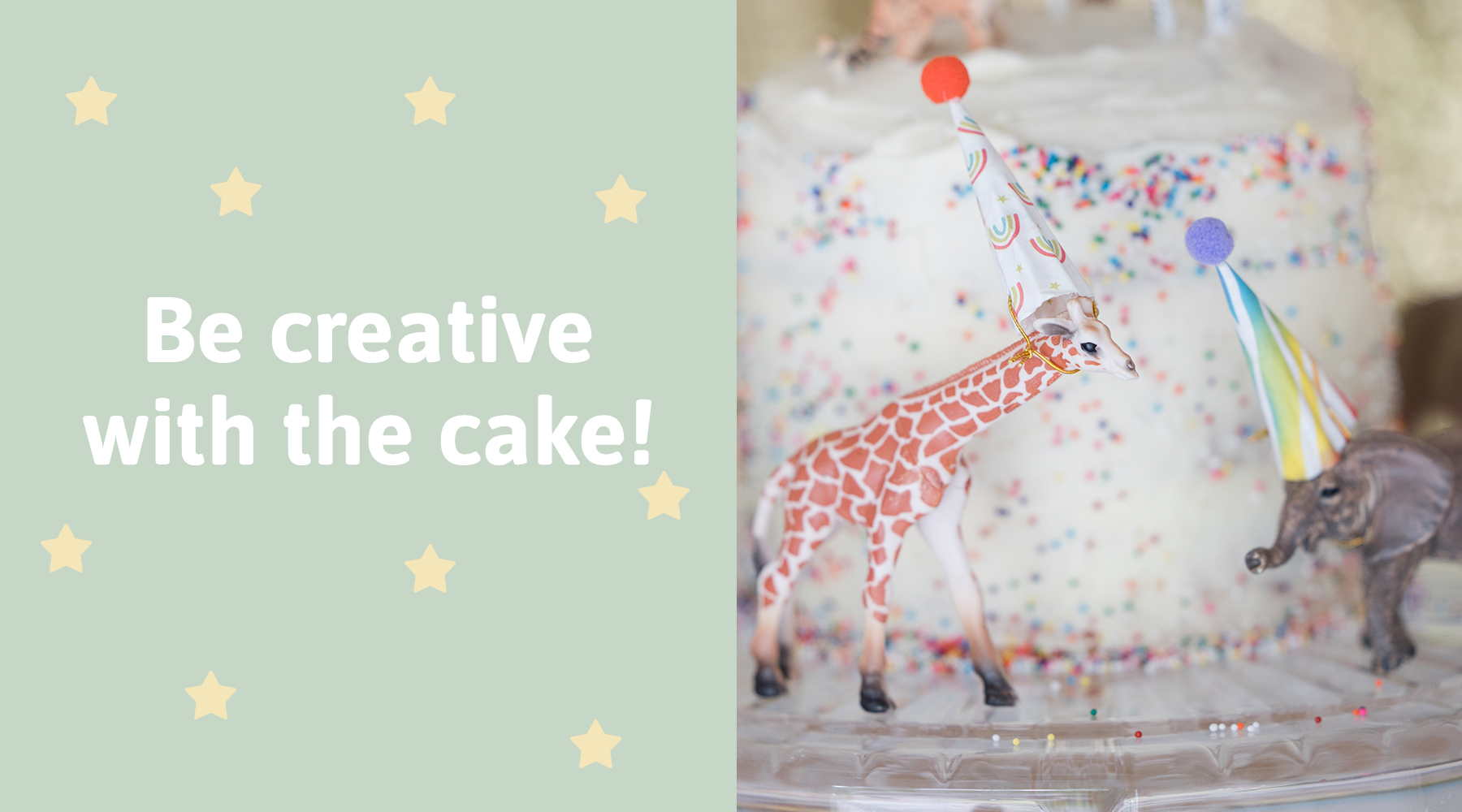 Bake or buy your favorite cake. Place a popcorn container in the middle of the cake, preferably in red and white, or white and gold striped. A nice little touch is to place a name card with your child's name on the container. Pour some popcorn into the container. Grab the straws and attach the pennant string to them. Stick the straws in front of the popcorn container so that it resembles the fair entrance. Then, stick a lollipop on each side of the straws and decorate it with candy that your child likes. The children love it if you light some cake candles and bring the cake out while the whole party sings "Happy Birthday".
Latest post from the blog